Back to Canvas Tutorials
Login to PSU's Canvas account by navigating to canvas.pdx.edu. You will be prompted to authenticate with your PSU Odin name and password.
Note: if you were initially given a Canvas sandbox in our temporary Canvas installation, you'll want to export that content and import it to a new sandbox at canvas.pdx.edu. You can request a new sandbox by emailing oai_support@pdx.edu.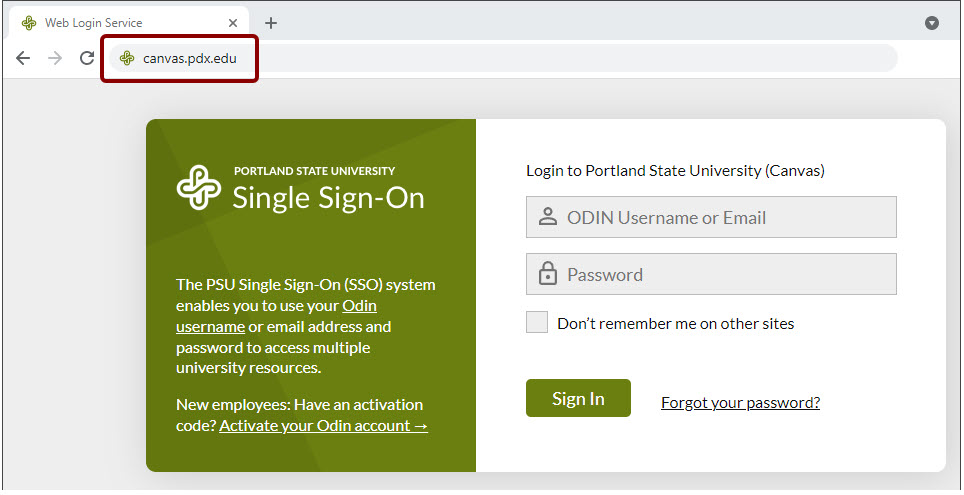 Two weeks before each term, new course shells with student enrollment are generated. As in D2L, you need to copy course materials into them. The Canvas Course Import process begins in the course you want to copy materials into.
Note: Canvas course shells have a default file storage allocation of 20 gigabytes (20,000 MB). If your course contains more data than that, more space can be allocated by request.
Copy all or selected materials from a Canvas course
From the home page of the course you're copying into, select Settings from the left course navigation menu.

In the settings area, select Import Course Content from the right-side menu.

From the Content Type menu, select Copy a Canvas Course.

Search for the course you will copy from. You can select from a menu of courses on your Dashboard, or enter text to search by title.

Select All content or Select specific content.
(Optional) enter offset dates or select the +Substitution button to offset by day.
Select the Import button.
If you have selected the full course, the Current Jobs queue will show the course import status. If you are importing selected materials, click the Select Content button.

In the Select Content window, you'll see a list of content groups. If you select the checkbox for a group, all content in that group will be copied.

If you select the horizontal arrow, the group opens and you may select specific items.
For nested content, repeat this step until you reach the item you want to copy.
Select the Select Content button. This will return you to the Current Jobs list and indicate progress.
Copy module items to another course
Canvas also allows you to share course items to another of your courses directly from the Modules list.
In the course you want to copy materials from, select Modules from the left navigation menu.

On the right side of the list, select the three vertical dots aligned with the item you want to copy.

Select the Copy To… menu item.
Select the course you want to copy this item to. You can also select a specific module to copy it into.

Select Copy.
Note: if you copy the same material again without changing the filename, edits made to the first copy will be overwritten.