Zoom is a virtual meeting software available to the PSU community. In addition to these instructions Zoom has a robust support site, including video tutorials.
1. Downloading the Zoom Meetings Desktop "Client" Application
To effectively create and join Zoom meetings, you'll download the Zoom Meeting Client (in this context, "client" means a small desktop application, as opposed to a web/cloud based application).
Download via https://zoom.us/support/download. You do not need administrator privileges to download and install it. You should also check for updates monthly. Zoom is adding features regularly and older versions may not support them.
2. Installing and Signing In to the Zoom Meetings Desktop Application
To install, navigate to either your Mac application folder or PC user folder and select the Zoom app or exe file. This will generate a launch pop-up.
Select Sign In, then enter your Odin account information and authenticate with Duo.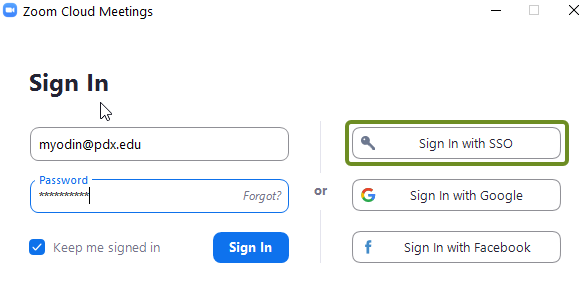 If prompted, confirm the browser dialogue box to open the application.
3. Signing in to Zoom Meetings
Important: Zoom meeting links give users the option to "join from your browser." We strongly discourage you from using this option, since many features only work in the Desktop App. This also causes problems for students, so you may want to deselect this option in your account settings so they must join from the Desktop or Mobile app.
Launch the Desktop App by selecting Zoom Meetings from the pop-up window. If it doesn't open, you may need to download and install it.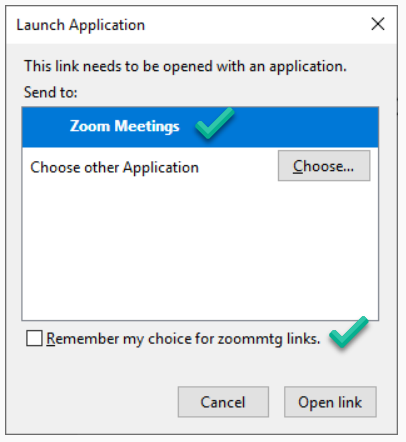 When you see the browser message below, do not select Join from Your Browser if you need full functionality.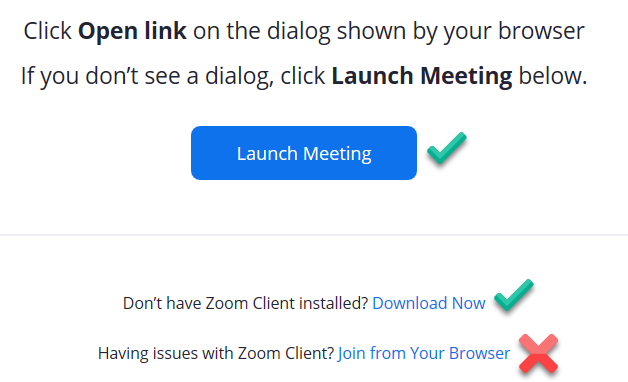 4. Signing In to your Zoom account settings in the Web Portal
The Zoom web portal at pdx.zoom.us is where you can customize your default meeting settings (see our recommended settings for preventing Zoom-bombing), add a profile picture, schedule new meetings, view details about past meetings, and access all of your Zoom cloud recordings.
Sign in to the portal with your Odin information at pdx.zoom.us
Locate the left navigation menu containing tabs to adjust your Zoom Profile, Meetings, Settings and Recordings.
Review and optionally adjust your default meeting and recording settings. See recommended settings for Zoom-bombing prevention.
Customize your profile and (optionally) add a profile picture. The profile picture is what shows when you're in a meeting but have disabled your video feed.
Customize your name to (optionally) include preferred pronouns. To do this, edit your Profile and select the name field. Add pronouns after your last name. Save the new settings. Note: you cannot directly edit the "Display Name" field, it simply shows what you've entered in the First and Last Name fields.
5. Using Zoom in D2L
If you are using D2L, we strongly recommend scheduling course meetings within D2L using the D2L Zoom meetings integration. This stores meeting links and recording links in your course, making it easy for students to find them. Some meeting functions must be configured in the web portal, but it's always best to create them in D2L if you're teaching there.
Note: OAI recommends the inclusion of a syllabus statement if you plan to record any of your Zoom meetings. See a recommended syllabus statement and learn more about FERPA implications of Zoom in our Zoom and FERPA guidance.
This article was last updated on Feb 11, 2021 @ 12:46 pm.