WYSIWYG stands for What You See is What You Get and is a common interface for editing HTML content.
Note: Depending on your screen width and browser settings, your button spacing may be slightly different than the image shown.
Buttons to Insert Items
Insert Stuff: This button lets you embed files and media into your HTML page. Use Insert Stuff to add embed codes from YouTube and Media Space. Use this button also to insert permalinks links to library resources.
Insert Image: Use this button to add images to your HTML page. You can add images files from your computer, existing course files, or via URL.
Insert Quicklink: Use this button to add links to other D2L items, such as Quizzes, Discussions, or Assignments. You can also use this button to add links to external (non-D2L) websites.
Insert Symbol: Use this button to insert special characters such as ©, €, ∞, and other symbols not included on the standard keyboard.
Insert Line: Use this button to insert a horizontal line.
Insert Attributes: Use this button to add alternative text to images already added to your page.
Note: Click the down caret to access buttons 4-6.
Buttons to Format Text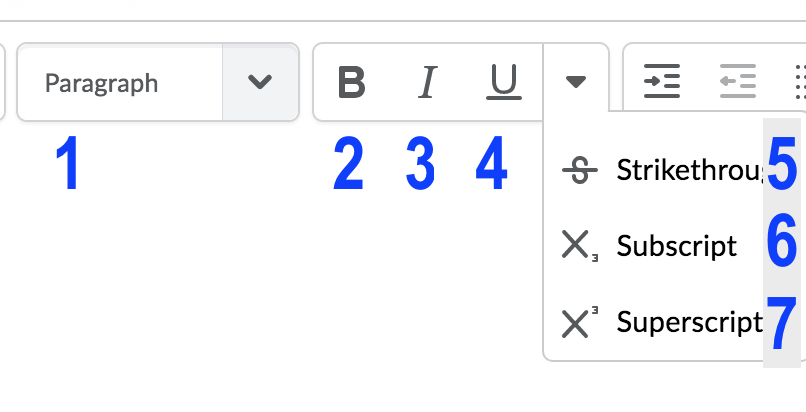 Paragraph: Drop down to to specify the text formatting. Use this button to add headings.
Bold: Make your text bold.
Italic: Make your text italic.
Underline: Add underlining to your text.
Strikethrough: Strikethrough selected text.
Subscript: Add a subscript.
Superscript: Add a superscript.
Note: Click the down caret to access buttons 5-7.
Buttons to Align Text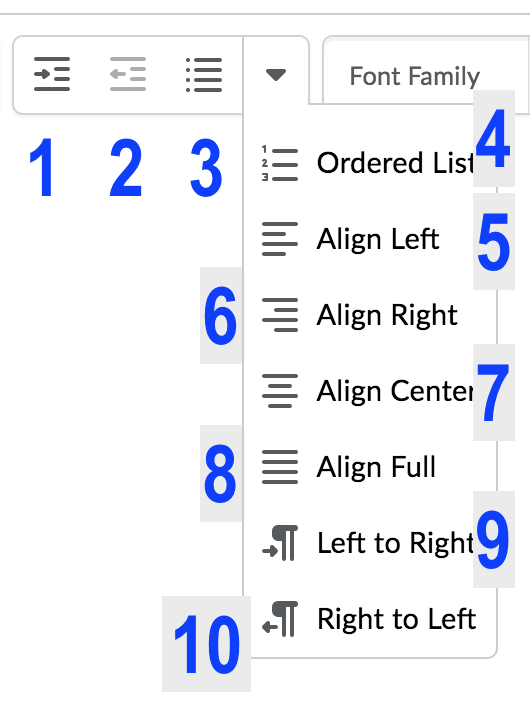 Indent: Indent your text.
Outdent: Outdent your text. (Move it to the right.)
Unordered List: Create a bulleted list.
Ordered List: Create a numbered list.
Align Left: Align your text to the left.
Align Right: Align your text to the right.
Align Center: Center align your text.
Align Full: Justify your text equally between the left and right margins.
Paragraph Left to Right: Add text from the left to the right.
Paragraph Right to Left: Add text from the right to the left.
Note: Click the down caret to access buttons 4-10.
Buttons to Change Font

Font Family: Change the font (e.g. Arial, Times New Roman, etc.)
Size: Change the text size. It's best to use the preformatted headings (button 7) as headings provide important accessibility attributes.
Color: Change the text color.
Buttons to Add and Edit Tables
Insert Table: Insert a table and select initial number of rows and columns.
More Table Options: Once a table is added, use the additional table options available here to customize and edit your table.
Button to Add Mathematical Text
Insert Graphical Equation: Add Mathematical text through the D2L graphical equation editor.
Note: If you know other mathematical markup languages, click the down caret to access equation editors employing LaTeX or MathML languages.
WYSIWYG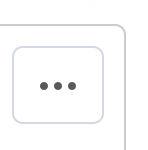 Expand: Toggle to show all WYSIWYG editing buttons.
Buttons for Editing Actions
Undo: Undo your most recent action.
Cut: Copy and cut selected text.
Copy: Copy selected text.
Note: HTML content can be optimized for accessibility and visibility. See tips to format your HTML content appropriately.
This article was last updated on Feb 8, 2021 @ 12:26 pm.