Back to D2L Tutorials
D2L has several ways to get quantitative information about student activity in your course. The caveat with these analytics is that they only show interaction with software. Seeing that a student clicked on a page and left it open for an hour really tells you nothing about their learning. That said, seeing that a student hasn't touched anything in D2L for two weeks is a clear red flag.
Class Progress
The place to get an overview of student activity is Class Progress. Select Course Admin in your home page navigation and then find the Class Progress link in the Learner Management area. This gives you a high-level view of Content Completed, Logins, and Grades for each student.


Click on the name of any student you're concerned about. This gives you a list of each area of your D2L course they've interacted with, including last-visited dates. You need to click the small "caret" to the right of each D2L tool to open the details panel. It can be useful to compare the last three items: Course Access, Login History and System Access History. This will indicate if a student is logging into other D2L courses but not yours.
Class Progress for an individual student can also be viewed from your Classlist, by selecting View Progress from the student's "context menu" (opened with the small caret after their name).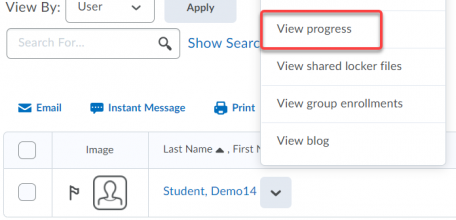 Content
To focus on how students are interacting with course Content, start by clicking the Table of Contents link in the left panel of your Content area. In the center panel, open the Related Tools menu to select View Reports.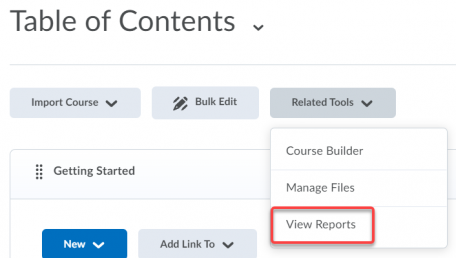 This opens in the Content tab, which lists every page in your course, the number of students who have visited each one, and the average time spent there. Clicking the "users visited" number for a page shows you details by student.
Discussions
You can get an overview of your students' Discussion activity by opening the context menu for a Topic. Click the caret at the end of the Topic title, and select View Topic Statistics.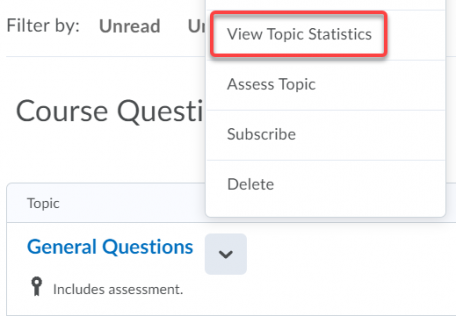 This shows you the threads posted by each student, and which threads they have "read" (meaning they've opened the thread or marked it as read).
Quizzes
Lastly, you can see statistics on Quiz results by clicking the context menu of the quiz and selecting Statistics. The User Stats tab shows an aggregated bar chart and each student's score. The Question Stats shows score percentages by question, and the question details tab shows the questions themselves, so you can identify any problem questions.

This article was last updated on Aug 5, 2021 @ 4:09 pm.