The Course Content tool in D2L is used to store files that your students can view and download. Even if you are offering your course in person, students appreciate having course materials available online, and it can save you a lot of time answering syllabus questions over email.
Step 1: Create a Module
A module is D2L's word for folder: it's there to help you organize files.
Click Content from the navigation bar in your course.

Find the Table of Contents column on the left. Scroll to the end of the column.
Type the name of your module in the Add a module field.

Hit the Enter key on your keyboard to create the module.
Step 2: Upload Syllabus to Your New Module
We recommending converting your syllabus to PDF, but a Word document (.docx) works fine too. Using standard, web-ready document types helps ensure that your students can easily access your materials.
Click Content from the navigation bar.

In the Table of Contents column, click on a module (folder) from the list.
Click the New button, and click Upload Files.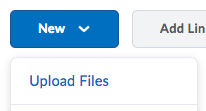 Click the Upload button in the pop-up window.

Navigate to the file on your computer, and select it.
Click the Add button from the pop-up window.

This article was last updated on Nov 12, 2020 @ 4:11 pm.