Generate Machine Captions
Machine captions are available through MediaSpace. Machine captions do not meet ADA accessibility requirements, but are a great way to generate captions for your course media that will only be used once, or as a starting point to build ADA-compliant captions when funding for human captions is not available. If you have a student with documented accommodations, please continue working with the DRC to ensure your media and course materials are fully accessible.
Enabling Machine Captions is a 2 step process.
Machine caption files are typically generated within 30 minutes of the request. Once the files have been generated, you must manually enable them on your media.
Generate Machine Captions
Login to Media Space at media.pdx.edu
Click the desired media from your My Media list.
Click Actions.
Select Captions Requests from the dropdown menu.

Complete the captions order request. The default selections are:

Service: Machine
Source Media Language: English (You may change the language selection if needed.)
Feature: Captions

Click Submit to request machine captions.
Enable Machine Captions
Click the desired media from your My Media list.
Click Actions.
Select Edit from the dropdown menu.
Click the Captions tab below the media.

Locate the actions menu. (See details below.)
Click the icon on the far right to Show Captions on Player.
Your media will now display machine captions.
Note: You can edit captions directly in Media Space.
Captions Actions Menu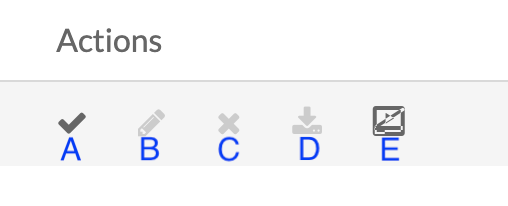 A: Set caption file as default.
B: Edit caption details (language or label).
C: Delete caption file.
D: Download caption file.
E: Show caption file on player.
This article was last updated on Nov 12, 2020 @ 4:02 pm.